Wealth Management Advisors
Meet our experienced advisors who can help you maximize your wealth.
The experienced team of advisors at TCU Wealth Management brings expertise, sound judgment and a responsible approach to investing and protecting members' wealth. Guided by their client-first perspective, through our team's inquisitive nature and collaborative approach they will work closely with you to develop a customized solution to realize your goals and dreams. You can count on the expertise and integrity of our advisors, who have been recognized for their sound investment practices by managing risk, delivering investment and tax-planning advice, and providing legal and ethical products and approaches. They'll explain investments and opportunities in plain language so you'll be able to make informed decisions.
Read more about each team member, then contact an advisor directly to discuss your needs.
Regina Wealth Management Team
Andrea Bacsu
Qualifications: CFP®, RRC®, RIS
Specialized areas of expertise: Investment advice, socially responsible investment options, retirement and estate planning, education and goal-based planning with emphasis on reducing income taxes
TCU Wealth Management
2615 E Quance Street
Regina, SK S4V 3B7
P: 306-546-1046
E: abacsu@tcuwm.sk.ca
Andrea keeps her clients informed about their portfolios and opportunities while establishing meaningful connections built on honesty, respect and over 20 years of experience in the financial industry. She's deeply interested in financial planning and tax concepts, and enjoys finding new ways to help her clients make informed monetary decisions. She brought her strong customer service skills to TCU Financial Group in 2000 and has been an important part of the Wealth Management Team since 2009.
Andrea is registered with IIROC, FP Canada and the Responsible Investing Association. She is also a member of the Regina Estate Planning Council. Outside of work, she coaches little league baseball and serves as Secretary of her children's school council. She's an active mom to three small humans and enjoys camping, playing ball, hiking, reading and spending time in her garden.
Jeff Elliott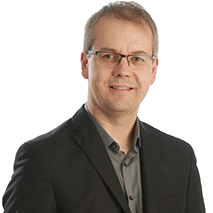 Qualifications: CFP®, BAdmin
Specialized areas of expertise: Responsible investment options, retirement planning, investment planning
TCU Wealth Management
2615 E Quance Street
Regina, SK S4V 3B7
P: 306-546-1047
E: jelliott@tcuwm.sk.ca
Jeff has always been drawn towards working with numbers, so he's happy to be in a career where every day he can help people understand and make better financial decisions. This drives Jeff's entire approach to wealth management. He enjoys explaining complex investment concepts in easy-to-understand language, while making sure his clients understand what they own in their portfolios and why they own it. Jeff has worked within the credit union system since 1997 and at TCU Financial Group since 2018.
Diligent and responsible about investment planning, Jeff is glad to be working with TCU Financial Group, who is at the forefront of ESG (environmental, social and governance) investing. When he's not at work, Jeff enjoys spending family time with his wife and kids. He also likes reading, camping and travelling.
Saskatoon Wealth Management Team
Tre Bynoe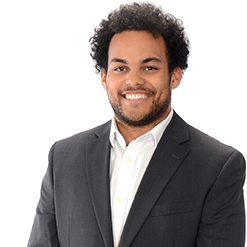 Qualifications: CFP®, RIS, CIM®
Specialized areas of expertise: First-generation wealth creation, retirement planning
TCU Wealth Management
3130 Preston Ave, South
Saskatoon, SK S7T 0V1
P: 306-651-6745
E: tbynoe@tcuwm.sk.ca
Tré believes most people aren't taught how to become wealthy, and this fuels his passion to share what he's learned. His own interest in investing and becoming financially independent led him to this career. Known for his candour and clear insights, Tré has a unique approach based on recognizing opportunities and building a framework around decision-making to help his clients reach their goals. Sparked by a lifelong interest in building wealth, Tré has worked in investing since 2014 and at TCU Financial Group since 2019.
Tré admires how credit unions are created by people for people and put members' interests first. Outside of work, Tre volunteers with FP Canada where he grades Certified Financial Planner (CFP) exams. At home, he enjoys spending time with his partner Sierra, travelling, playing with their dog Seika and visiting puppies at rescue shelters.
John Hettel
Qualifications: CFP®, BSPE
Specialized areas of expertise: Broad and deep knowledge in all areas of financial planning, backed by many years of experience
TCU Wealth Management
3130 Preston Ave, South
Saskatoon, SK S7T 0V1
P: 306-651-6740
E: jhettel@tcuwm.sk.ca
John's approach to financial planning and philosophy are guided by his desire to help people manage and grow their wealth. His unique approach is based on managing risk, being proactive, leading with integrity, being a good listener to his clients, and educating them about their finances and options. Humble about his expertise but extremely knowledgeable, John arrived at TCU Financial Group in 1998 and has worked in Wealth Management since 2002.
John's philosophy is based on relationships, accountability and attentiveness—he nurtures relationships over the long term, he holds himself accountable, and he makes it his priority to put his clients and their best interests first. John admires the holistic credit union approach to wealth management. When he's not immersed in financial strategies and meeting with clients, John enjoys travelling and playing golf.
Judy Sokoloski
Qualifications: CFP®, AICB
Specialized areas of expertise: Retirement planning, investment planning, building net worth, estate planning
TCU Wealth Management
3130 Preston Ave, South
Saskatoon, SK S7T 0V1
P: 306-651-6746
E: jsokoloski@tcuwm.sk.ca
Judy has always enjoyed the relationship aspect of her job the most and is deeply committed to building relationships with her clients that support their financial well-being. She looks forward every day to learning about her clients' values and priorities so she can build customized plans that will meet their unique goals and life plans. Judy started her investing career in 1996 when she became licensed to sell Mutual Funds, and joined TCU Financial Group in 2008.
Outside the office, Judy enjoys spending time with family and friends. She keeps busy around her home and garden, which comes naturally to her because of her farming background. She says there's nothing more satisfying than pulling weeds—in life, in finances or in the garden.